After I let the rear windshield sit dormant and untouched for a week while the glue cured, I pulled off the masking tape holding it in place and inspected the edges. To my great dismay, I noticed that the upper right hand corner of the rubber molding appeared to be falling into the channel between the windshield and the hatch frame. Upon pulling back the molding to reveal what was underneath, I noticed a sizable gap that was larger than the opposing corner's. I'd say the difference was about 3-4mm.
Although relatively minor, it was apparent that the windshield needed to be manually shifted into a centered position during the install. And because that didn't happen, it wasn't going to fly. With haste, I set into motion the necessary steps to get this resolved. First, I needed to track down yet another tube of the elusive Sikaflex 291i in 300mL, which is only available from suppliers from the UK. I didn't want to wait on slow, international shipping or have to pay the exorbitant costs of rushed delivery… so I reached out to my buddy Zach, who also bought a polycarbonate rear windshield from Plastics4Performance for his FD, and was the original influencer for me. Since his car is undergoing major surgery and didn't need to install his windshield immediately, he obliged when I asked him if I could relieve him of his Sikaflex 291i tube. Zach was stateside and could ship me the tube within a week versus a few weeks. I backfilled his inventory by buying a tube from one of the UK sellers, instead.
The next piece I needed was another OEM molding, which I luckily already had in my personal storage. I bought this one a couple years ago because I knew it would eventually come in handy – and it did.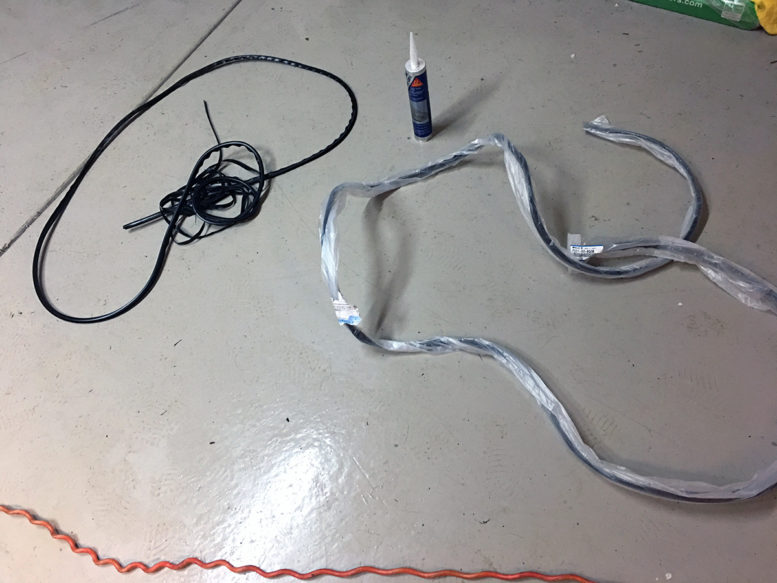 Lastly, to bring it all together, I called up Chris and persuaded him to come back out for some deja vu. On another rainy Saturday evening, we got to work cutting out the freshly installed windshield and redoing everything.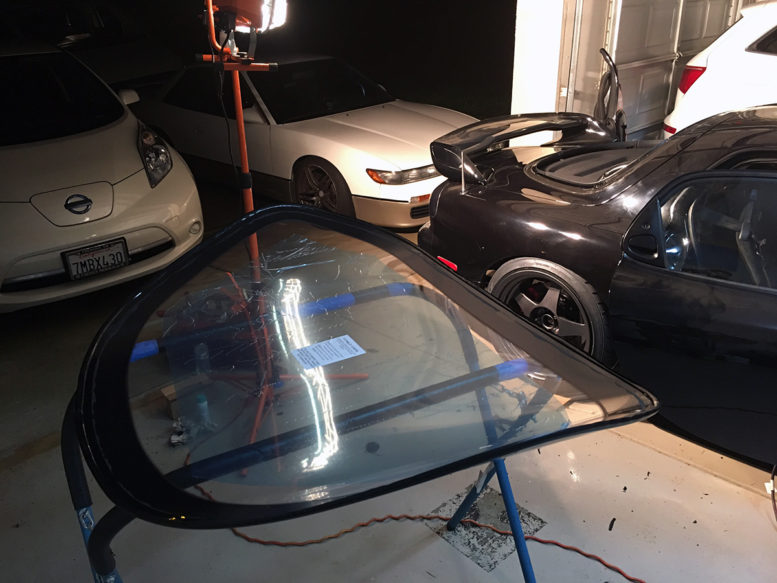 It was interesting to see the roll bar inside the car without the windshield.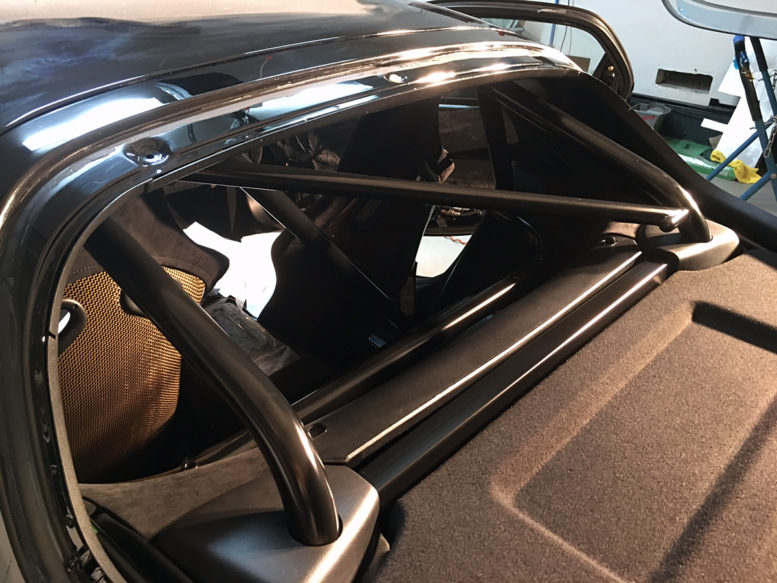 This install #2 was slightly easier than the first round because we didn't have to struggle with removing a stubborn, OEM glass windshield, but it still took over 3 hours. I'm thankful that Chris is a trooper and stayed patient to see it all through. This time, we purposely squeezed out the Sikaflex 291i with more vigor and was able to exactly deplete the entire tube. As soon as the windshield was dropped back into place over the glue, we meticulously swarmed onto the window and constantly checked under the molding at all of the corners. This part really brought out the OCD in me, but I DID NOT want to have to go through a third install. Eventually, the gaps between all of the corners were as even and we settled that the windshield was as centered as it could be.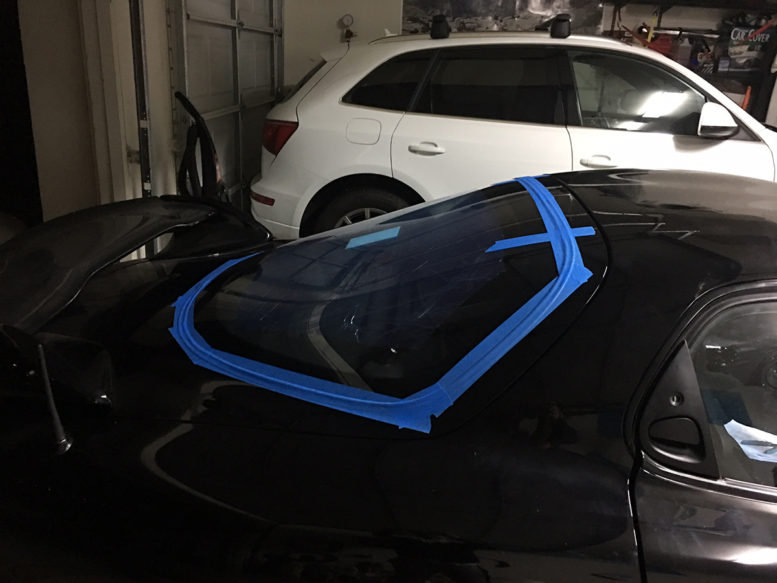 In the end, this was yet another example of how things are not always in your control. The expression "do it right or do it twice" does not speak to the whole picture. Sometimes you do your best to do it right, but you still have to do it twice. I can attest that this kind of stuff is not for the weak willed and unmotivated. Docile individuals are more likely to favor ignoring the issue or postponing its correction indefinitely. It really takes vehemency to take action effectively and also quickly. Likewise, I understand and have respect for those who demonstrate these qualities under similar circumstances.