I found and acquired my grails. It might come as no surprise that I dearly missed my original 17×10″ RegaMasters, but 17″ wheels just didn't cut it. In the time since, I went through 2 separate sets of Advans. But one thing was apparent, they were all just fillers. The true set of wheels I desired and sought were 18×10.5″ RegaMasters, the beefiest of them all, and also the rarest.
For quite a while, I was stuck on a mindset that meaty, squared tires achieved the most superior setup. This carried me down a narrow path to search for 18×10.5″ +45 RegaMasters all around. Finding a pair of these wheels is a difficult and enduring undertaking, let alone all 4. You have to be well connected and constantly vigilant. I had pauses which allowed for a couple potentials to slip away, including a relatively cheap pair from a seller in Russia. Needless to say, it was a passive but fruitless endeavor that spanned many years.
I was willing to push my search deeper into passivity and essentially accept that obtaining the sizes I wanted may not be realistically feasible. It was not until I had an insightful shift in perspective that doors started opening.
What I'm talking about is my more recent reassessment of subjectivism and an evolution of aesthetic tastes. In many ways I am rebalancing my profile. I desire for certain elements to be more subtle, while others to be more accentuated. More relevantly, I have dropped my standardized inclination on wheel and tire fitment and now interpret with better clarity.
Let me break down my rationale. With the RX-7 being a small car, I think it looks best with tires that are not out of proportion. It's easy to fit super wide tread under the arches, but it can start resembling a steamroller real quick. I personally think that 255/35 is the magic number. It's not too wide and not too tall. A stock body RX-7 has a sleek figure and should be capitalized on accordingly. Running fat tires makes it look dated and unflattering. At the end of the day, it is still a Japanese designed car and is archetypical to lower, stretched fitment. It just pairs up well. Like how, contrastingly, an American Corvette looks good with ultra meaty tires. Although the whole "stance" scene has diluted and negatively portrayed this style of fitment, my opinions are not affected. Obviously, the stretch and ride height will need to be done correctly and not excessively.
With that said, I switched gears and started to seek out more aggressive 10.5″ +18 RegaMasters and also go staggered with 9.5″ fronts. Almost anticlimactically, I found what I was looking for easily. I knew my buddy Ken had a spare set of 18×9.5″ and 18×10.5″ +18s and I was able to convince him to sell the wheels to me. Without hesitation, I put my newly installed set of Advan GTs for sale to make room. The funny thing is, I knew he had these wheels for probably 7 years now… they were right under my nose the whole time I was looking, I just needed to go through the experiences that I have to eventually know how to adjust my search parameters.
Because of my lengthy and devoted history to these wheels, my goal was to give the refinishing process the most proper treatment possible. Although they were in storage, it's important to remember that they came out in the late 90s. I decided to avoid powder coating the wheels like I did with my first 17×10″ set. Concerns with metal embrittlement from the prolonged heating process when powder coating gave pause. Plus, I wanted a finer finish that retained all of the sharpness in the edges and engravings. Powder coat is much thicker than conventional paint and excessively covers the details.
I entrusted the wheels to my preferred painter, William. He tried to have a local wheel shop sandblast off the old paint first, but the shop turned them away because it was determined that the RegaMasters were too light and frail to safely withstand the abrasion. This meant that the wheels had to be stripped and prepped 100% by hand, which added a great deal of labor.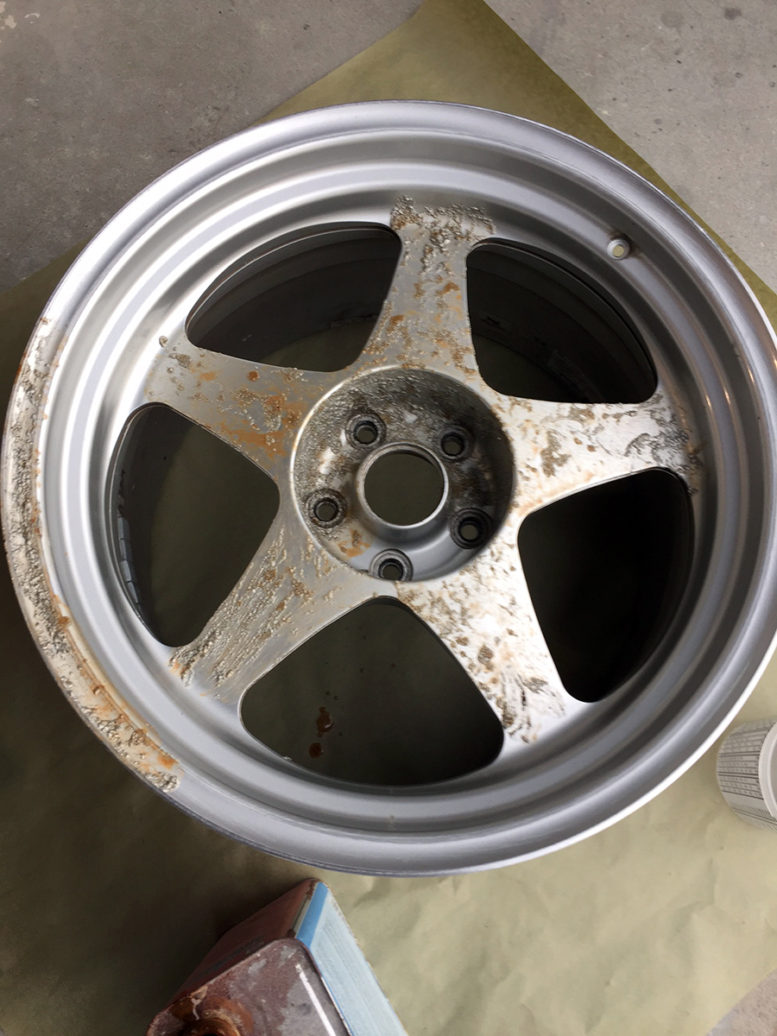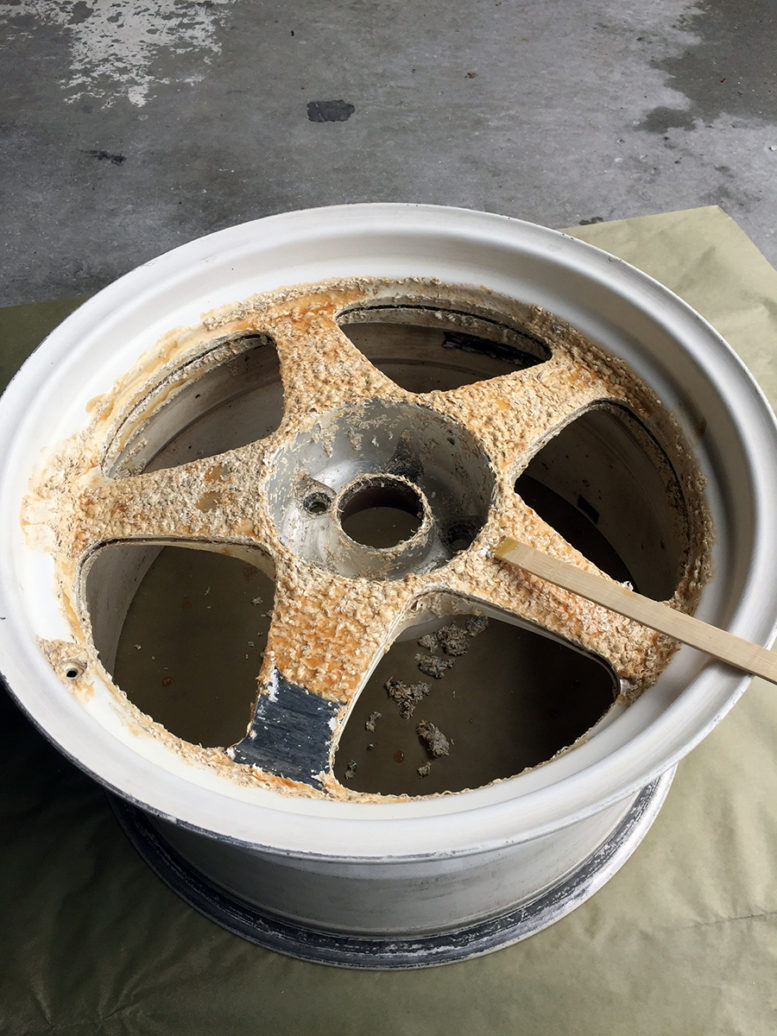 Many hours of work later, the wheels were converted into their raw aluminum state.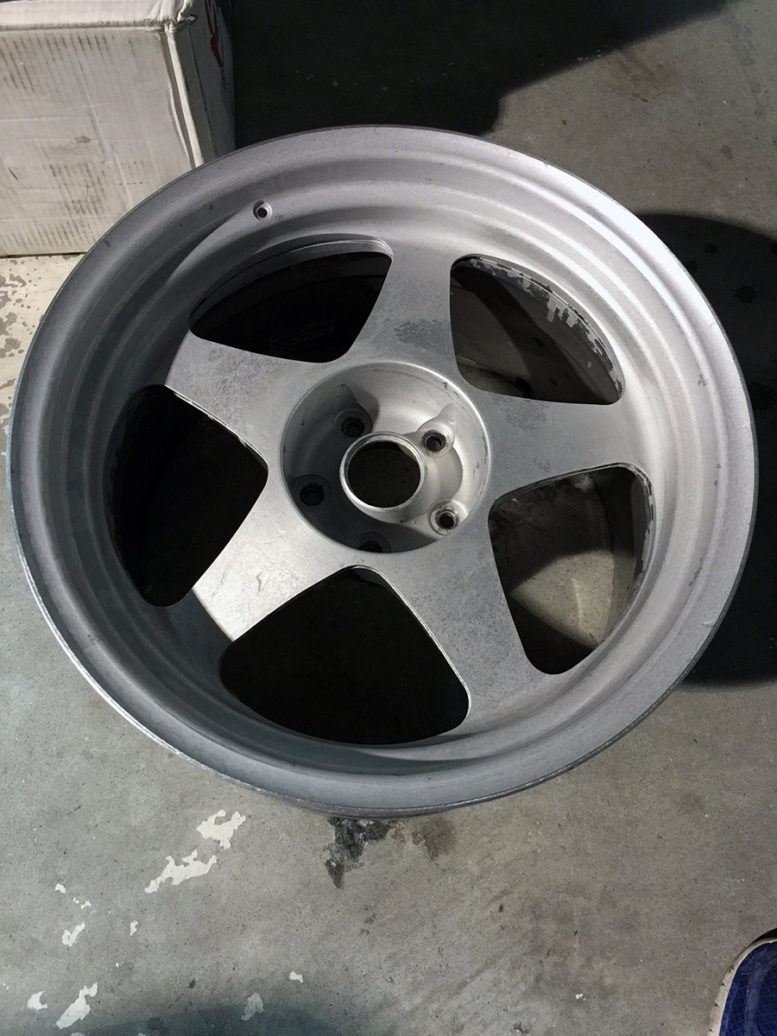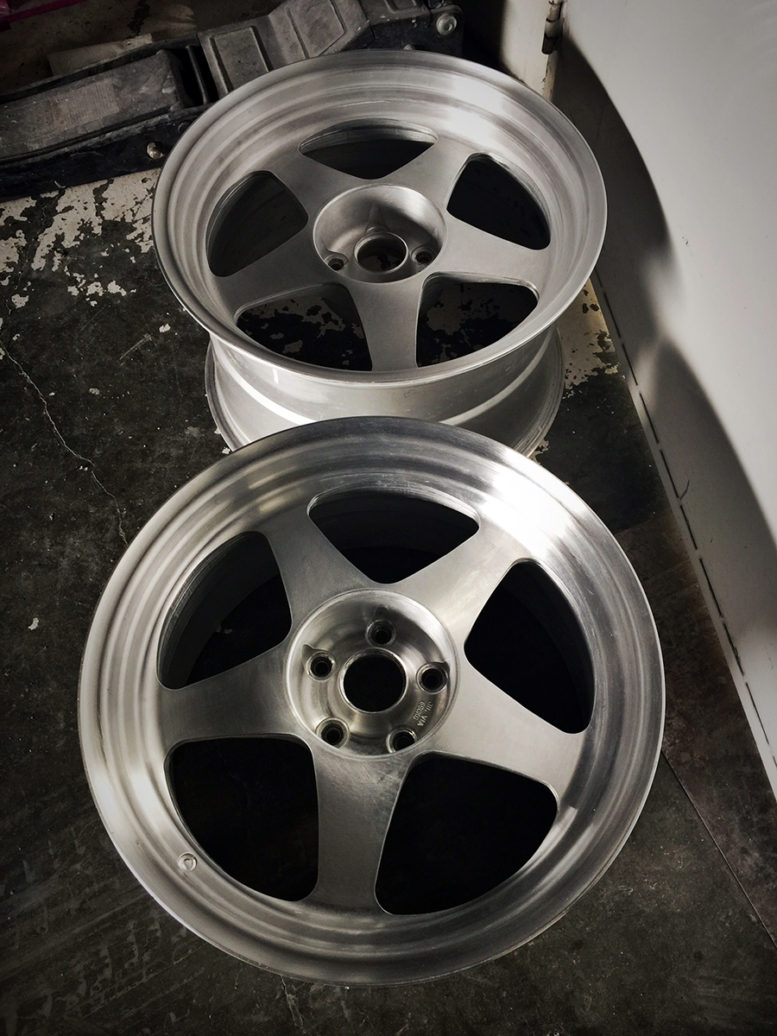 Areas of oxidation inside the grooves were finished back as well.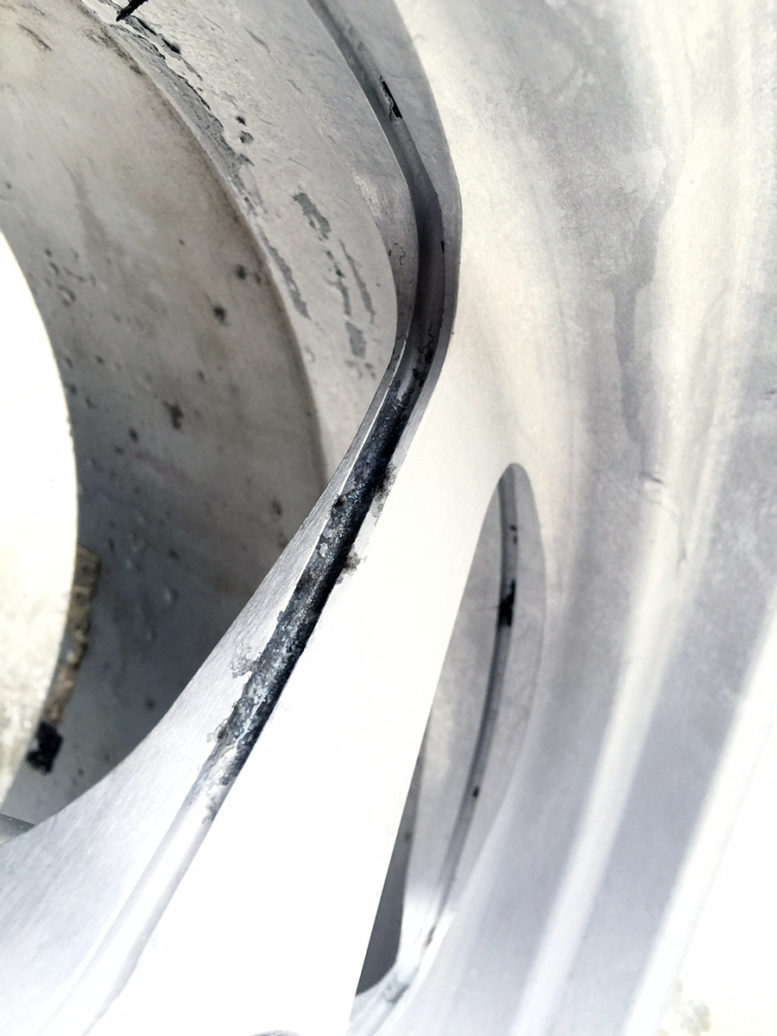 Next, the wheels were ready to be hung in the spray booth…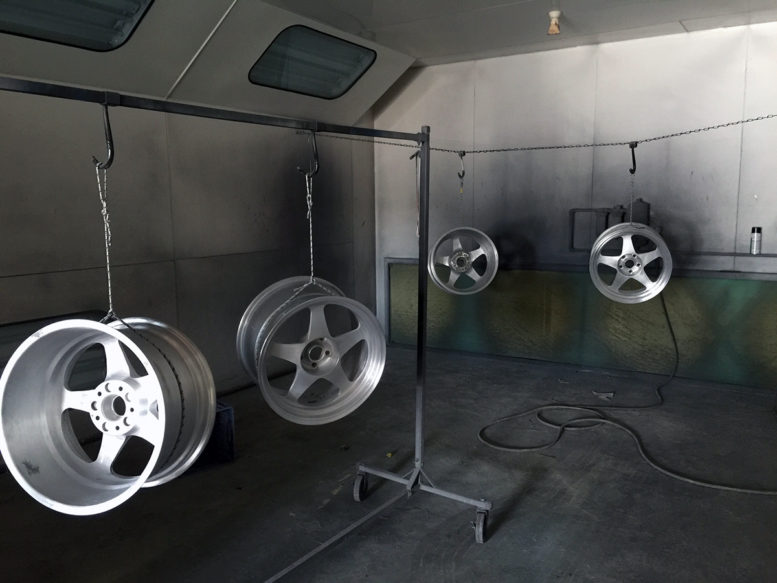 …and sealer and primer were applied.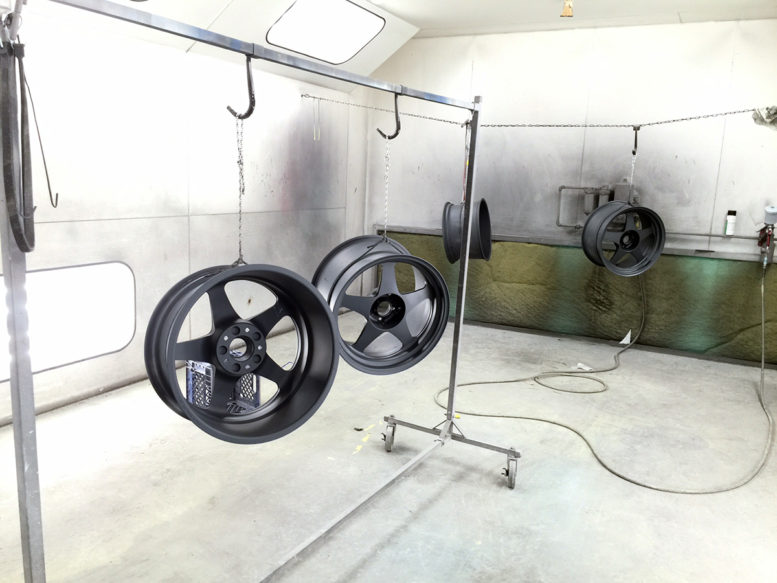 Deciding what color to go with was a dithering task. Silver is too classic and simple for me and I'm also done with the whole black on black look. A Gunmetal Grey was the choice and I settled on the Nissan GTR's Gun Metallic (paint code KAD).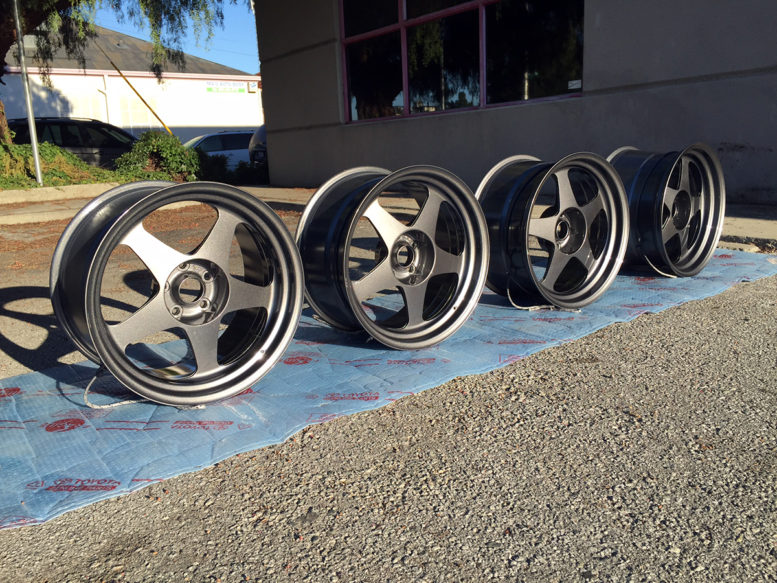 Forged in Russia, with love.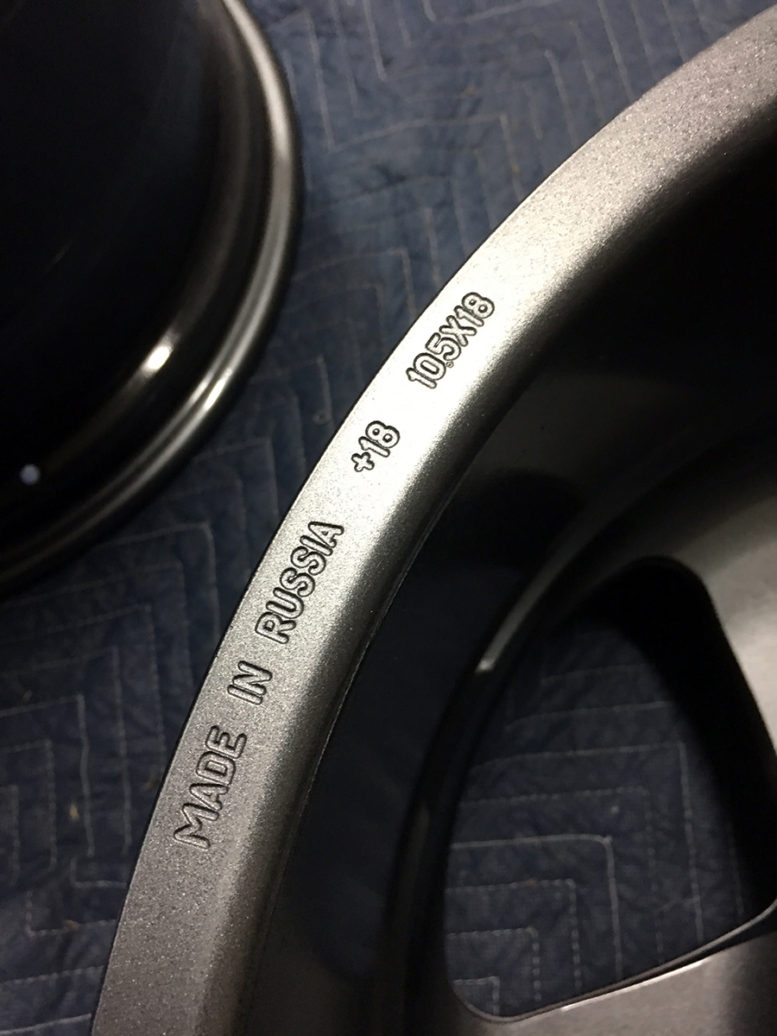 All engravings are well kept.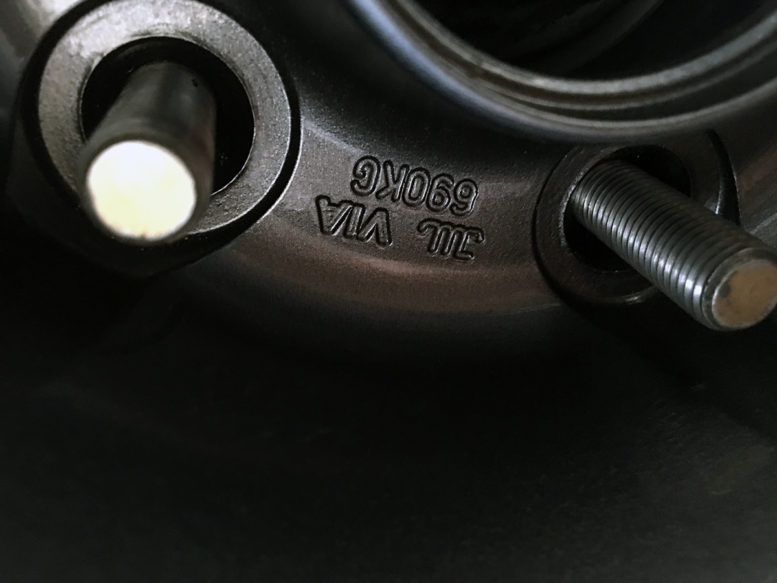 I was explicit on having the mounting hub faces left raw.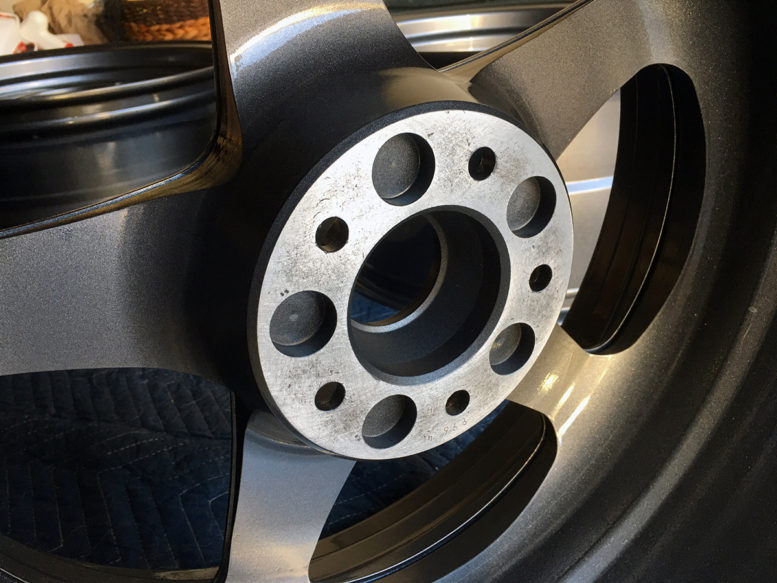 While waiting for the wheels to be refinished, I sourced a set of rim decals that had the proper radius for 18″ diameter wheels. However, I do not plan on running them, but they're nice to have.
I also had a custom set of reproduction inner barrel stickers made with my wheels' specifications and serial numbers.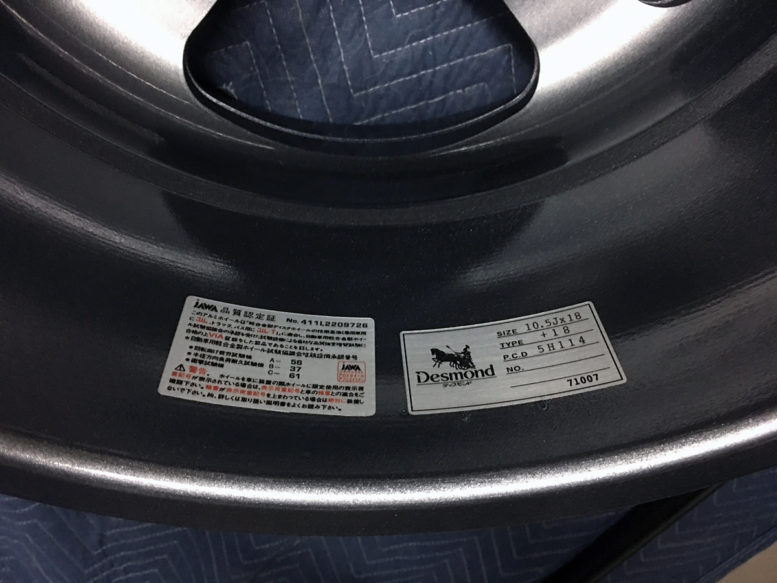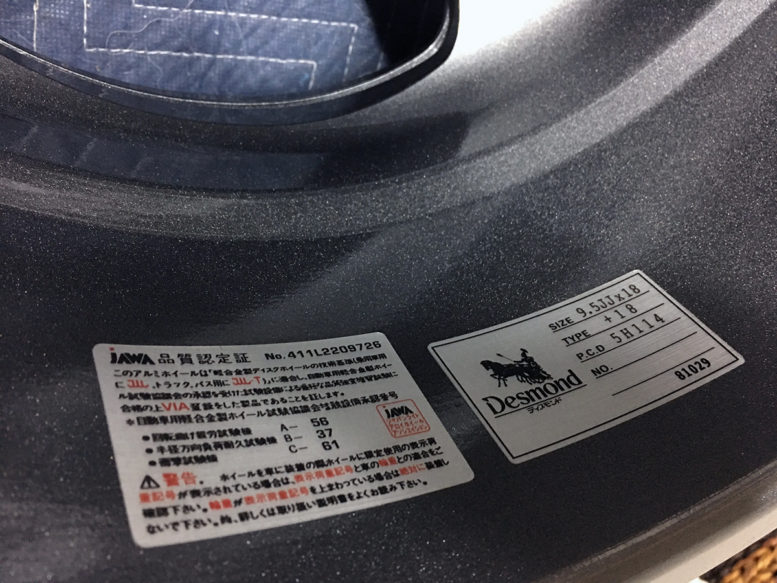 They add a great touch!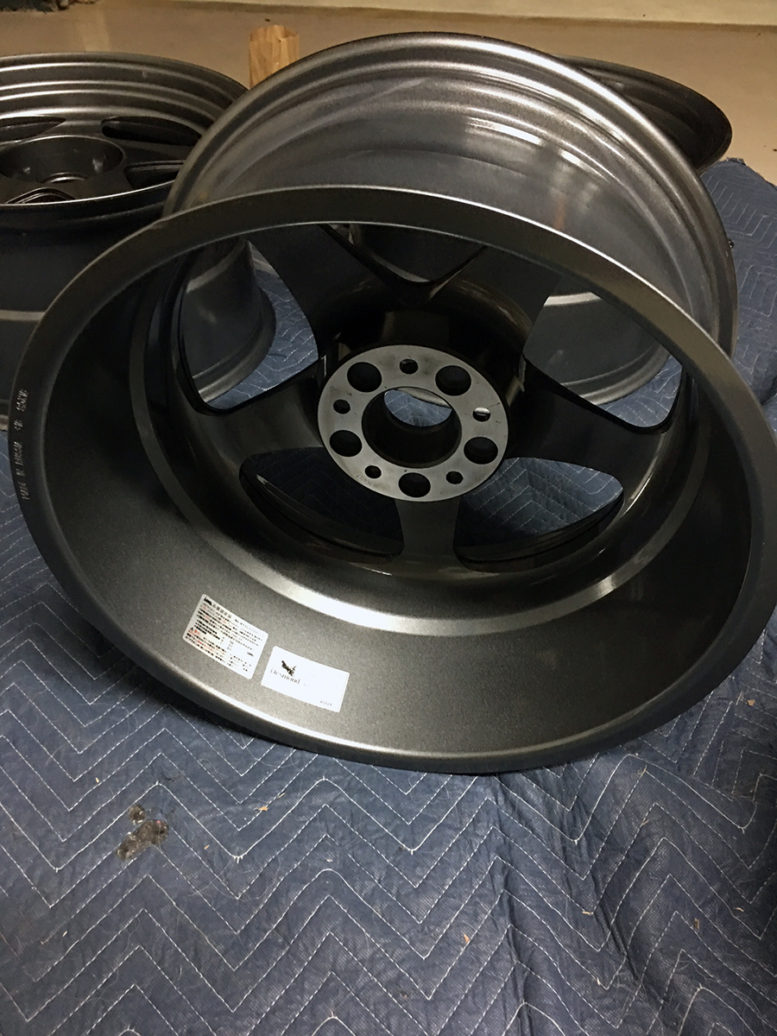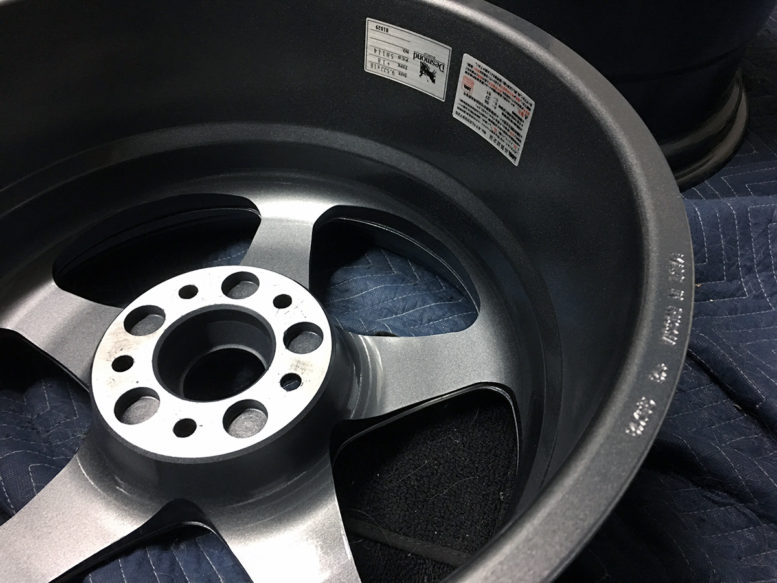 In my downtime, I accumulated a sizable collection of Marquis Promada center caps. The black caps are becoming especially rare. I polished the caps but plan to use the best condition black caps for the wheels.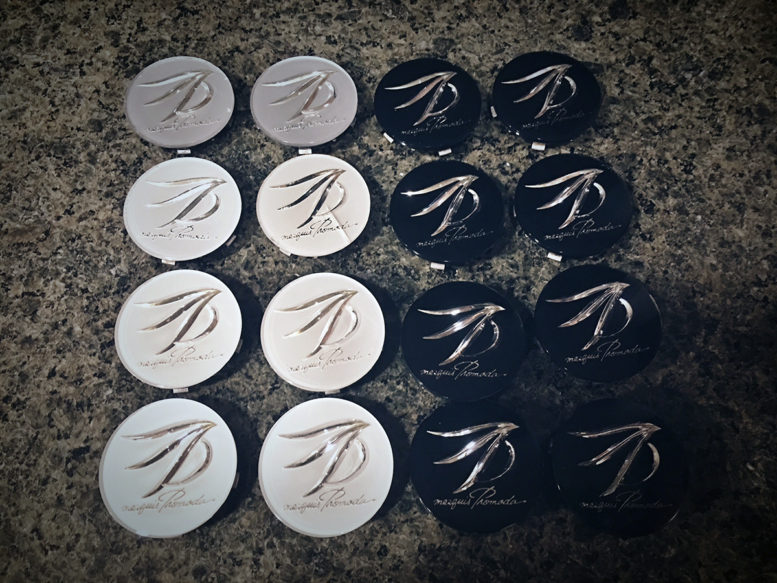 A quick test fit…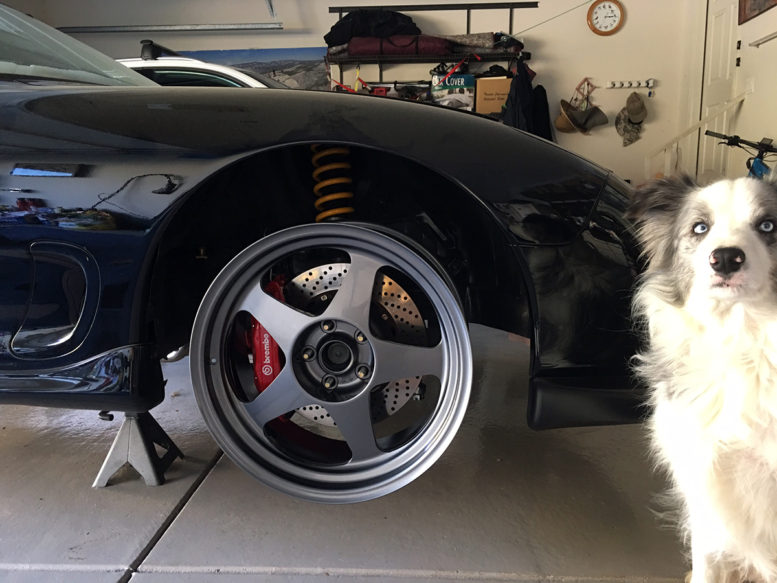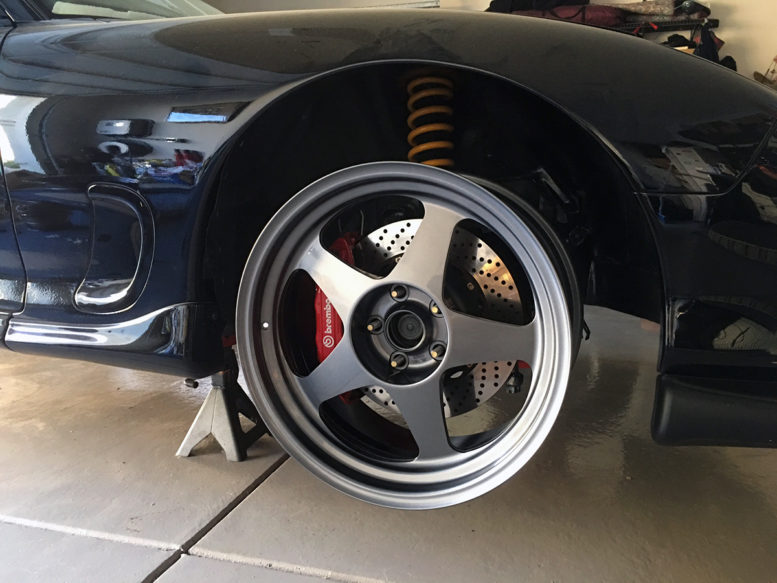 Selecting the right type of tire, not just size, is paramount to successfully accomplishing the desired fitment. Far too often people disproportionally invest in their tires. It may sound contradicting or unorthodox, but I primarily wanted a low tread wear, performance set of tires primarily because they have the right visual impact. Running off brand or general, all-season tires is horrid. And because I am stretching the tires, the characteristics of the sidewall is crucial. Manufacturers and models vary significantly on comparative cross section widths. I already did the math and knew the sizes to use, but wanted to ensure that the tires I picked would mount with a nice, flat sidewall and not a bulging one. After much research and analyzation, I found that the Nitto NT05s would serve my needs.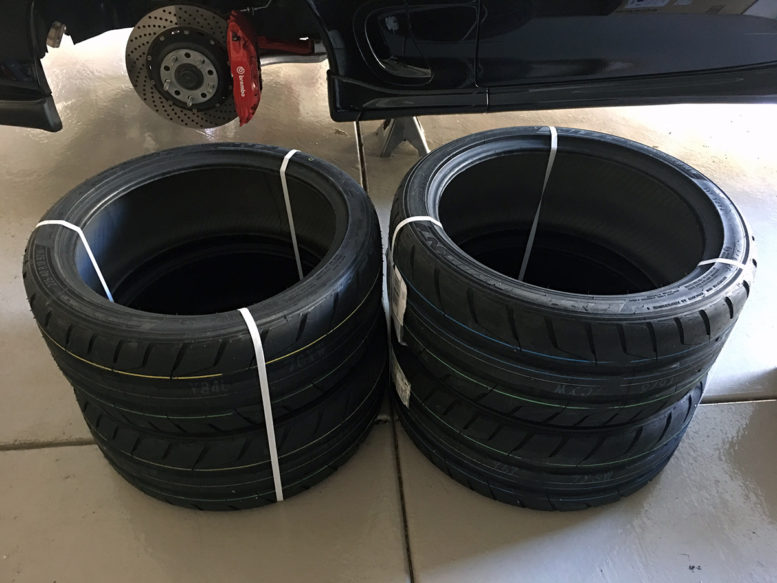 To go with the tires, I bought a new set of Enkei RPF1 metal valve stems. The RegaMasters have an undersized valve stem hole and the RPF1 stems are known to work.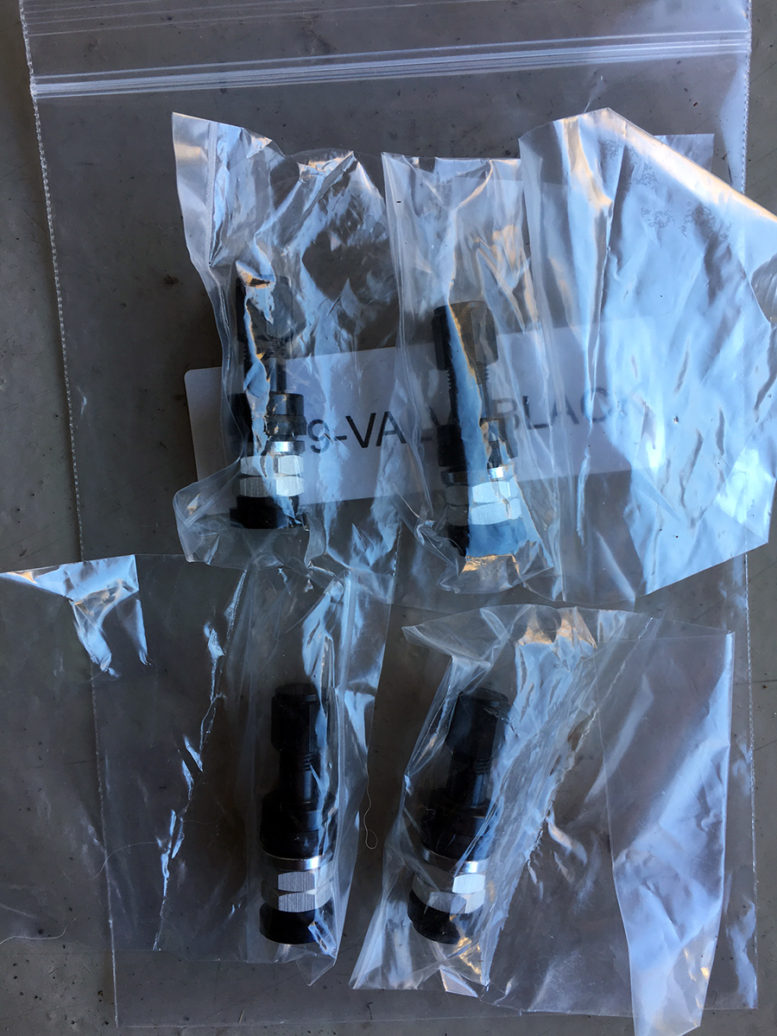 I went to my preferred tire installers, Auto Innovations. For the past decade, I found that these guys do the most detailed and consistent work. Everything is important. I asked them to mount the tires with the dot aligned to the valve stem, and they did.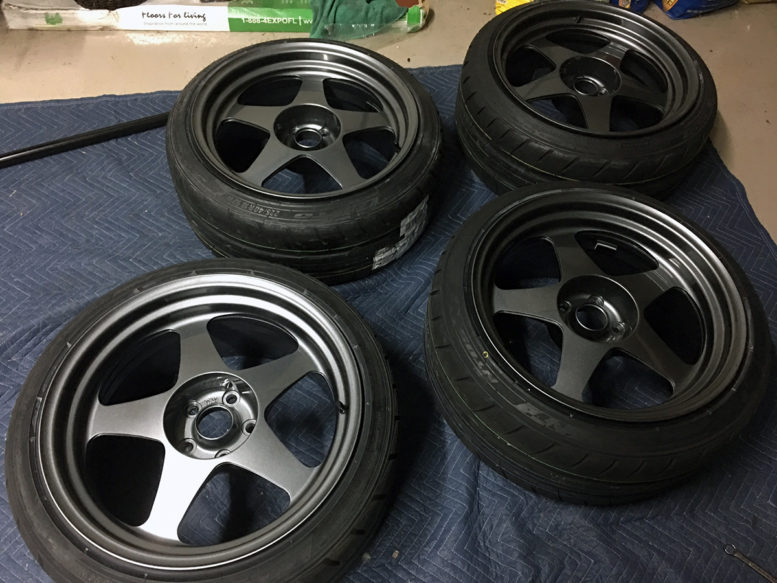 Now for the moment of truth, installing them onto the car. I knew I had to lower the ride height more because the goal was to tuck the top of the tires. I turned down the collars on the coilovers and surprisingly the height came out almost exactly right on the first try. I will still need to measure and make a few fine adjustments.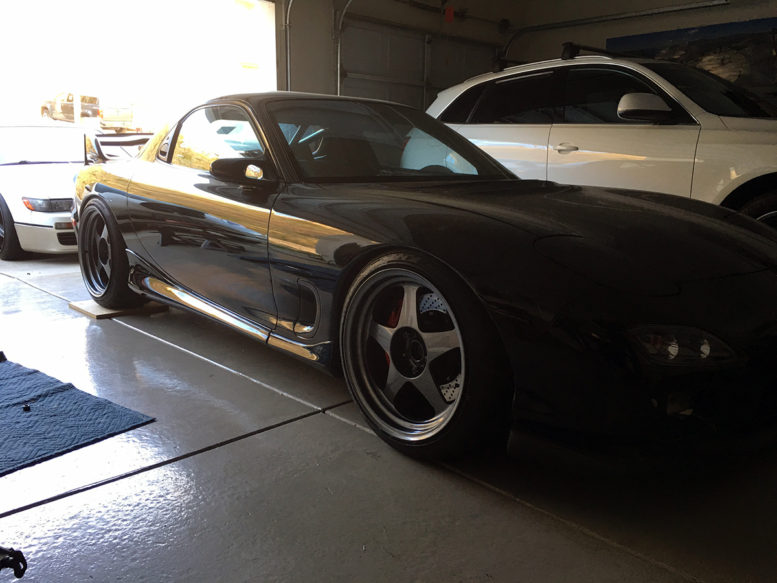 The tire stretch and fitment are exactly what I was hoping for. It's a great feeling to be able to execute on your plans and bring a vision to reality.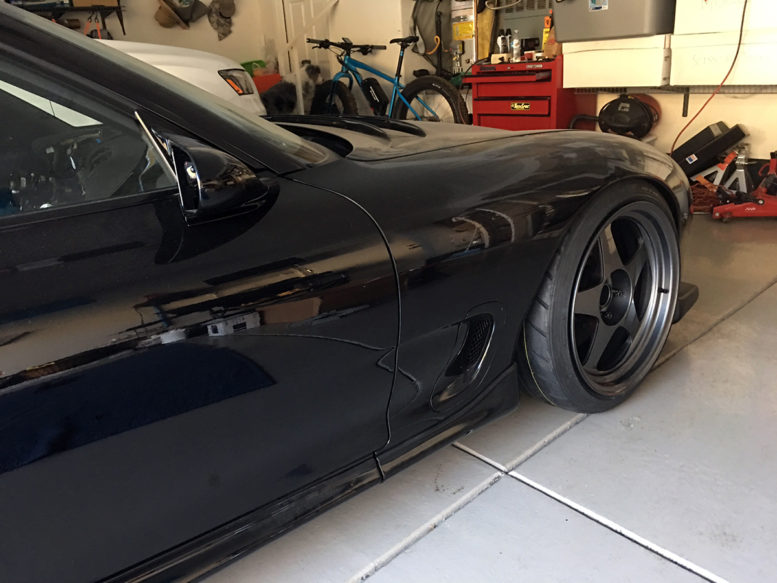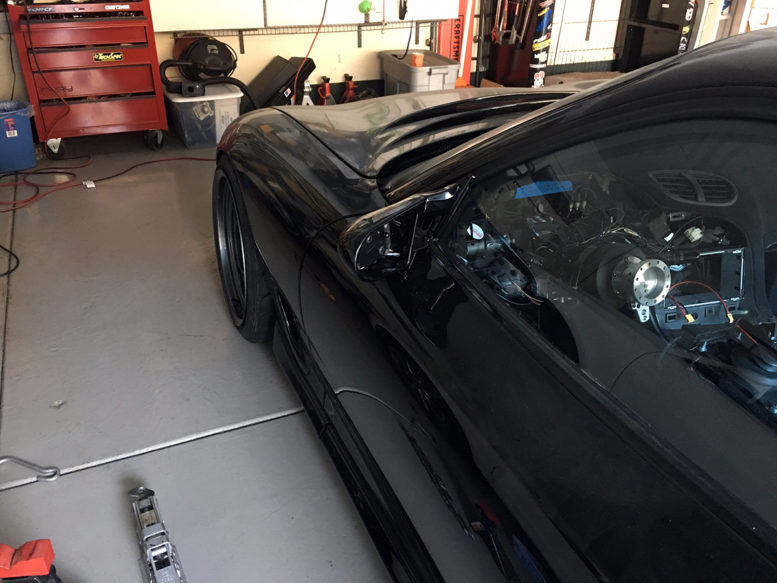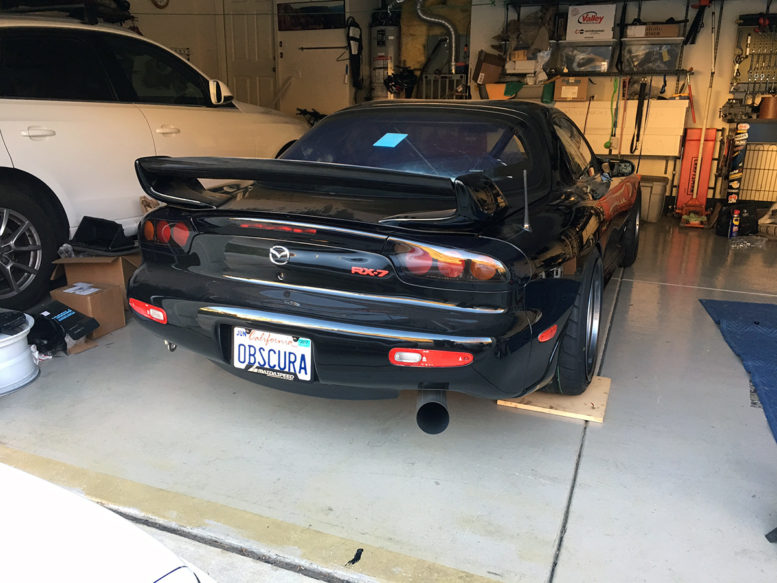 I am running a staggered setup with 225/40/18 up front and 255/35/18 in the rear. I was careful to match the stretch and height from front to rear, and these tire sizes are nearly identical in that regard. I'm hoping that the smaller wheel up front will make the manual steering lighter. Trying to turn the 10″ wide, 265/35s before was a workout.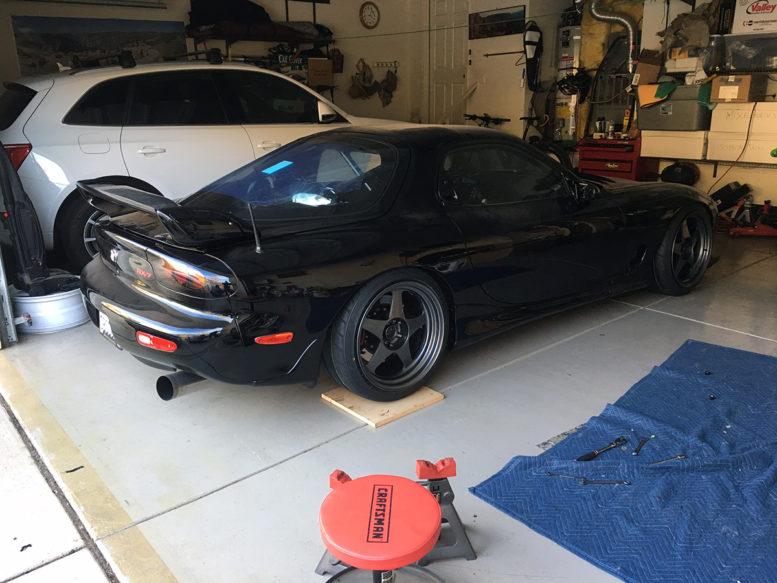 Loving the lips!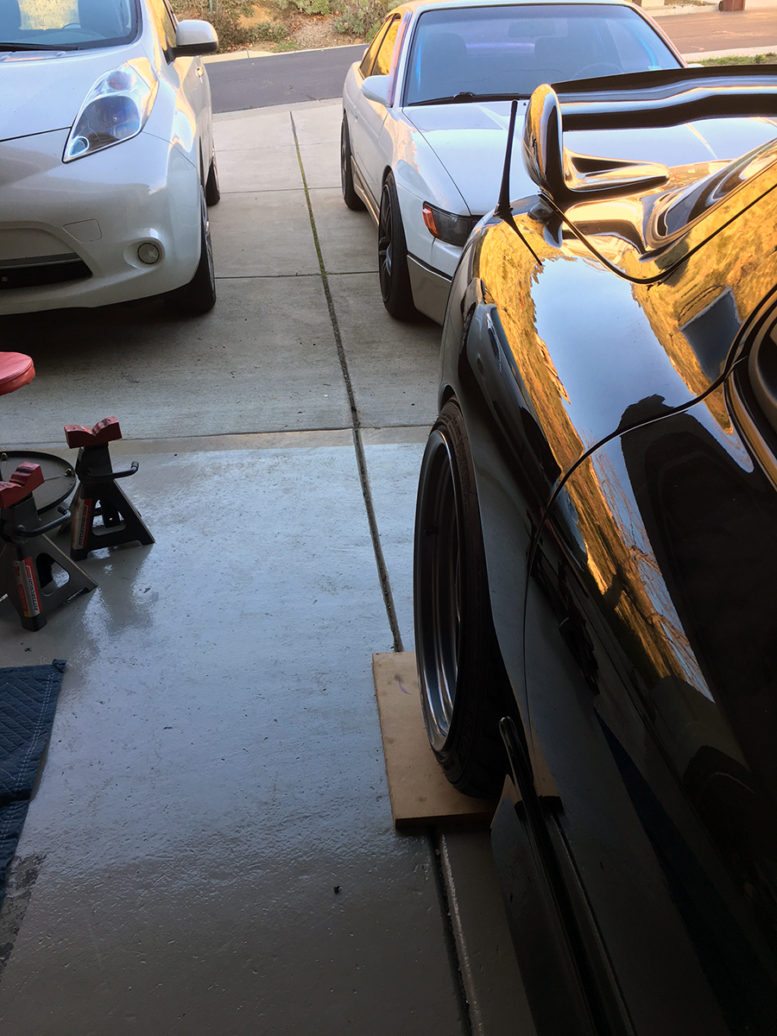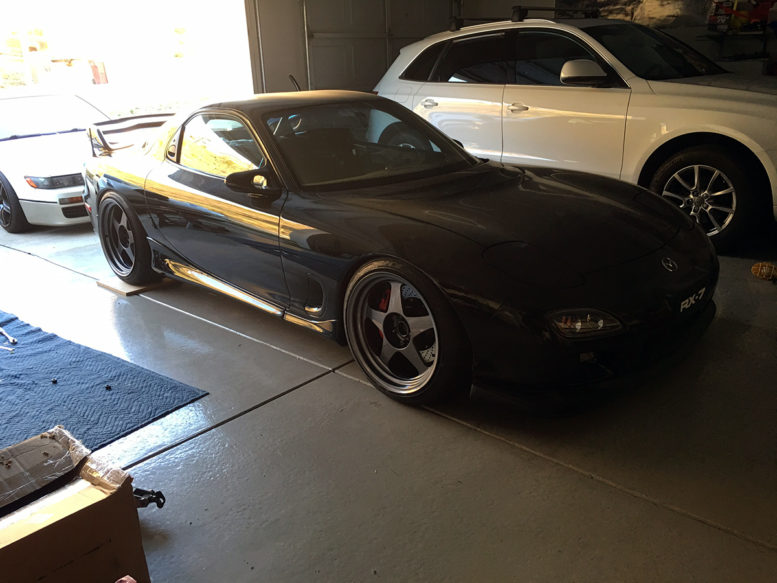 At last, my dream wheels are here and my car is nearing my dream state. Everything is so close.