My plans and ambitions for this Mini started out relatively modest: just do basic maintenance and a fluid change. The car was already well-sorted, but the previous owner kept it for around 10 years and it had only been driven less than 2000 miles during that time. Which means for a decade, it mostly sat in a garage. All the fluids were bound to be stale after so long. On the very first day I got the car, I had its oil changed. The engine ran noticeably smoother after, probably due to the fact that the old oil came out black and it was almost 2 quarts low… If I had gone up to Sacramento again and drove it all the way back, that would have most likely ended poorly.
The picture below was also on day one, I was adding diluted water to the coolant expansion tank. I don't have any full shots of the car yet, but they will come soon enough.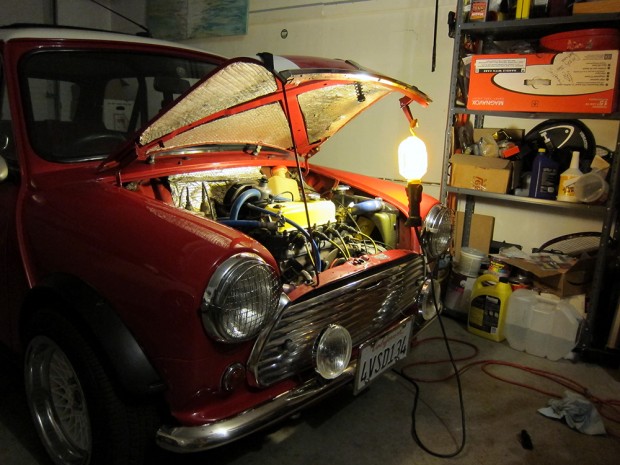 Next on the list was to bleed the brake and clutch systems. However, due to the latter having a leaking slave cylinder, it wouldn't be such a simple job. Since I had to replace the slave, I decided to replace and update both the brake and clutch master cylinders. The Mini came with the original tin-can style master cylinders, which blocks view of the fluid levels.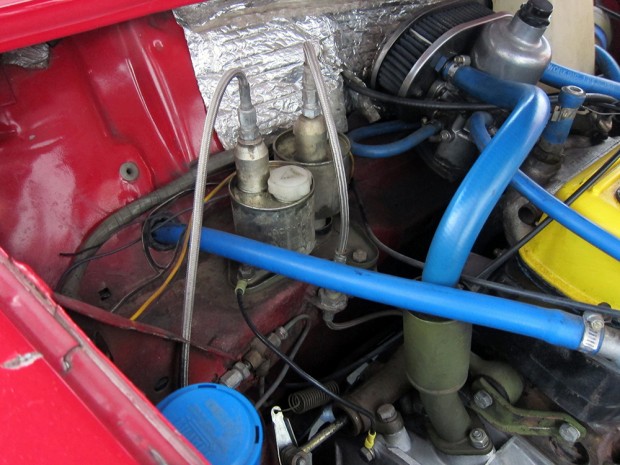 I changed them to these, with modern-day clear reservoirs.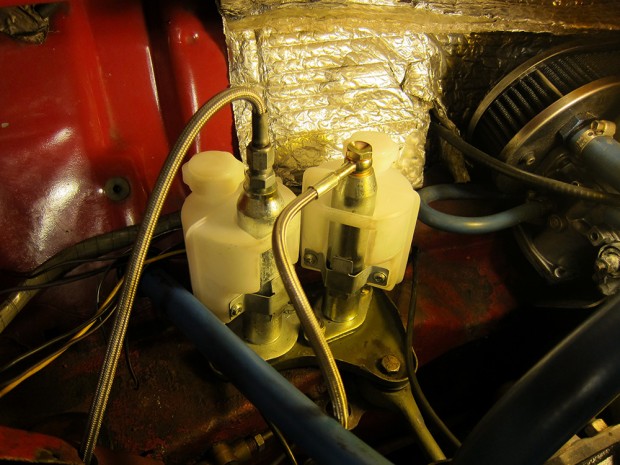 Here is the old, leaking slave cylinder next to the new one.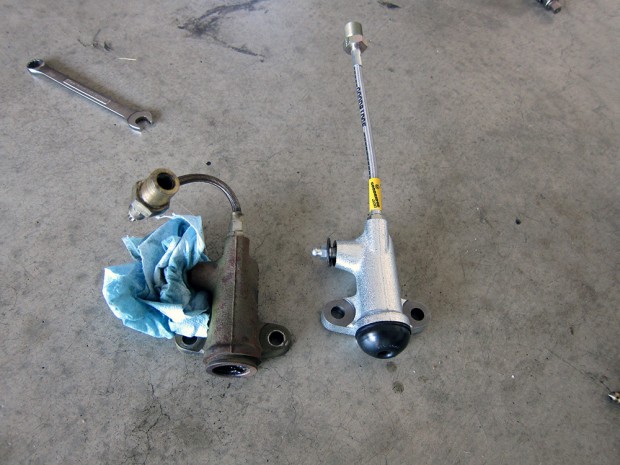 Installed… along with a new, banjo-style steel braided clutch line and stainless steel, adjustable pushrod. Brakes were bled with ATE Superblue and the clutch with generic DOT4 brake fluid. Thanks to Ruel for helping pump the pedals for a few hours.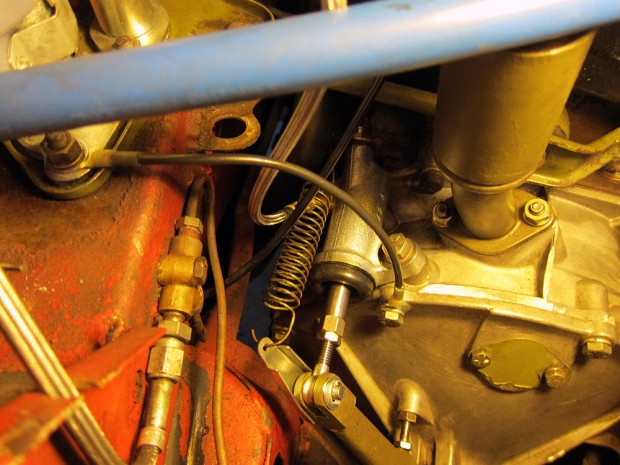 Initially, I was going to take the easy route and send the car to a local mechanic to do the above work and fix the brake lights, which were not lighting up (I bought a new hydraulic brake light sensor, because that was a major suspect). I figured why not, I get to save time and energy. Well, it turns out such a path was not destined for me – I had to do it the old-fashioned way and put in work. The to-do list grew dramatically the same morning I was about to drop the car off – because the car wouldn't start. Strange… it started reasonably easily the day I bought it and this was only 1 week later. The starter had previously been weak and hesitant before, but it was particularly weak that day and was unable to turn over the engine. Thinking it could possibly be the battery, I rushed to an auto parts store and bought a new one. This yielded the same results. Sometimes the engine would sound like it was about to catch, but then the starter would spin out and make a ratcheting sound. Every other crank was blank as well.
Nothing I could do that day would fire up the car – so it was time to get stuck in. I've already accepted the nature and style of owning a classic car, thus I was at least prepared mindset wise. I decided to take "advantage" of the situation and employ a catch-all tactic. I ended up buying not just a new starter, but everything around it. You'd think that finding parts for such a car would be near impossible, but as luck would have it, the 2 major Mini parts retailers are right here in Northern California. Big shout out to MiniMania and Seven Enterprises, because they had everything I needed and Ground shipping was Next Day for me since I lived so close. This saved a lot of time because I found out I needed certain parts as I went.
Here is the new starter installed.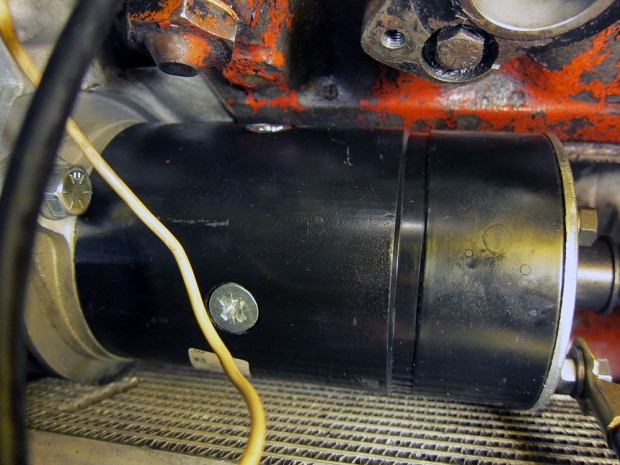 New Pertronix coil: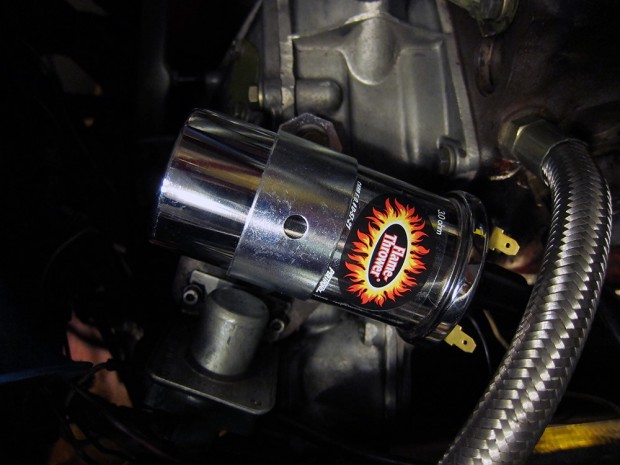 New NGK spark plugs: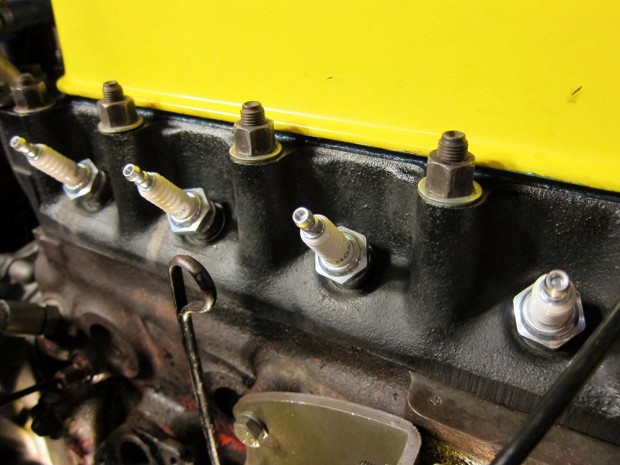 New Braille battery. I originally bought an Optima Red Top but decided it would be too heavy for the battery tray, so I returned it and bought this 17lbs Braille. I thought about getting another Deka battery again, but the cranking amps and stats of the Braille are far superior. Before installing, I replaced the positive terminal with a gold plated one and also bought a new ground wire. On the ground side, I threw on this cool cut off terminal which closes off the battery by just unscrewing that green knob. Since the Braille is so small and I am not going to drive the car everyday, it's important to guard off residual drain. The battery is sort of ghetto-rigged right now with zip ties, because I can't find any j-bolts short enough to hold it down.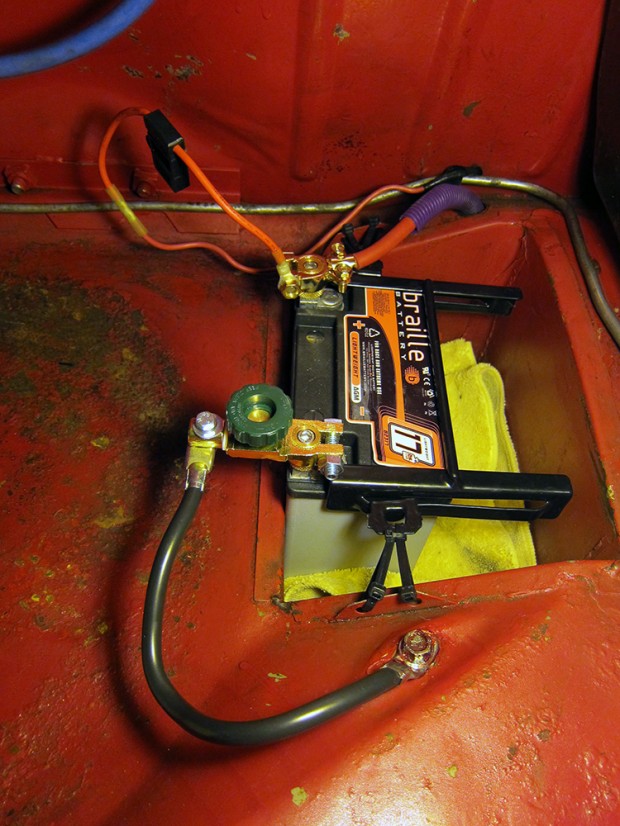 New electronic distributor and 8mm spark plug wires.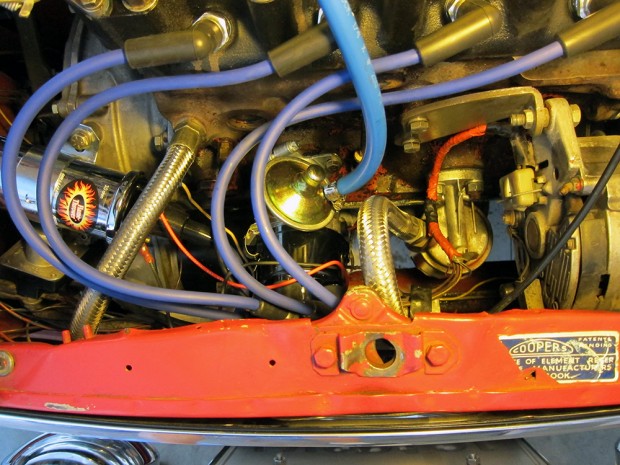 The distributor was the last hurdle before I could try turning the car on again. Since the old one was out, the timing had to be readjusted and I needed help on this part. After calling around multiple mobile mechanics in the area to no avail, I decided to give an old classmate a ring. His day job is a mechanic and he happened to start his own mobile service recently. He came through big time, and the next day (this morning) the new distributor was installed and the timing was set (13 degrees @ 1000 RPM). After a full week of work and parts ordering, it was great to see the car start up again and end on a successful note. There is a huge difference in power when cranking the car, no longer is the starter on its last breath.
In the end, I'm glad things worked out this way. I was able to update many key components and the wrenching felt honorable. The hardest task was definitely installing the brake and clutch master cylinders. They connect to the brake and clutch pedals inside the cabin… but that connection is made via clevis pins located way inside the dash. There was virtually no space to work with and I had to be contorted on the floor near the pedals to even see anything. But as with most things, a lot of cussing and sweat will get you results.
Now with this maintenance job sorted, it's time to drive!