I want to start off by recapping all the cars I've owned in the past 6 years, in chronological order: '92 Nissan 300zx, '93 Mazda RX-7, '96 Mazda Miata, '91 Toyota Previa, '97 Mazda Miata. To sum it up, I've only been able to drive 90's Japanese cars.
Finally, I'm breaking the mold with this 2009 BMW 135i. It's modern, it's Euro, and it's amazing. My Dad sold his car only a couple weeks prior to me selling the Miata… so our family only had the trusty Prius to drive. Made figuring out how to commute difficult, so needless to say, I was in a time crunch to find a car fast. I entertained the idea of other vehicles and even checked out an M5, but eventually decided on a 1 series. Craigslist didn't yield any promising results when searching in California, so I searched further North and found the right match: Alpine white, 24,000 miles, still has warranty, sport package, and stick shift. Ended up buying and shipping this car, and it arrived from Oregon this Thursday.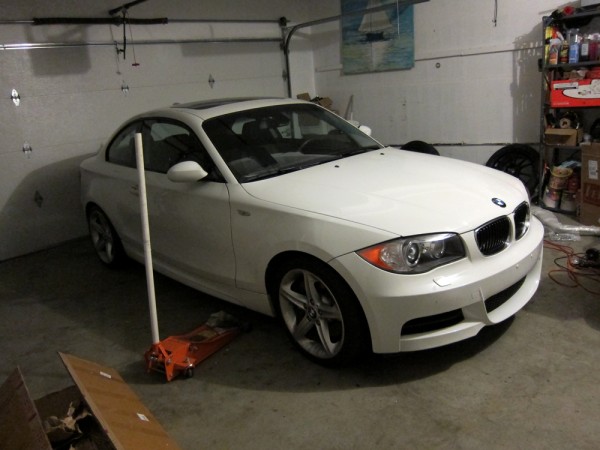 I drove it to work the next day and a few interesting details stood out for me, firstly the Fit and Finish… you buy a BMW for a reason and it shows. The car just feels like quality. Also, I noticed the intricacies BMW has imparted: the windows roll down slightly when opening/closing the doors; the radio dims down the volume before switching to another station; when stopped on a hill, if you let off the brakes to accelerate, the car maintains braking for a second; once rolling, the car automatically locks the door, but when parked, pulling on the door handle 2 times will unlock & open.
Although I've only had the 135i for a brief period, the difference between this and all my previous cars is readily apparent. This car is like a complete 180° from the Miata, it has creature comforts and feels refined. I'm loving it, I wish I didn't have to go through 5 other cars to get to this level, but hopefully now I can also break the mold of constantly buying & selling.