As noted previously, installation of the first Nardi steering wheel concluded disastrously. Not only did I break the horn button, I also botched up the actual spokes of the wheel. Courtesy of Nardi, the wheel came new with a couple light scratches. So of course I attempted to buff it out, which only yielded even further micro scratches in the process. It was a losing game. It got to the point where I had to wetsand the spokes with 2000grit, and that's about when I decided to throw in the towel.
I didn't want to bother with it anymore, so I bought the same steering wheel again. Why not? Thanks to cheap knock-off companies using real Nardi horn buttons on their fake wheels, Nardi decided to bump up their prices. The horn button originally cost $40… now it sells for $100. Not exactly helpful for buyers of real Nardi wheels like me… Which is why it seemed more logical to just buy another wheel rather than cash out on a little button.
Although the OMP suede wheel was perfectly good, I had made it a point to get this wood Nardi. I wanted a touch of class in a mostly uncivilized car. There's a lot stacked against me for driving a cheap, Japanese, "tuner" car, so I need to do all I can to introduce a slightly higher level of refinement.
3 wheels to achieve 1 result.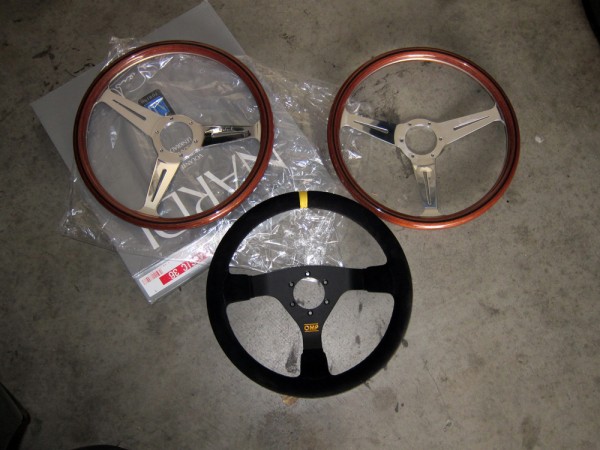 For Nardi #2, I literally had it installed from start to finish in under 10 minutes. I guess it simply would have been too easy to do this in one go from the beginning.