= heaven in my mouth.
One of the trends nowadays is to take pictures of what ever food you eat, I guess to make other people jealous or something. I personally think it's weird, but I'm going to concede and do it this time as well. Forgive me.
I realized I have a Food post category that's been mostly ignored. Furthermore, this dish I ate today signifies something much more than just another meal. It's almost like a milestone. A hallmark of me rising from the DEAD and actually eating a proper meal for the first time in 8 long and grisly days.
Even better, this particular noodle soup is my favorite of them all (I've had them all, Pho is like SEWAGE WATER in comparison to this beastly ass dish). IT WAS SO DELICIOUS YOU DON'T EVEN KNOW.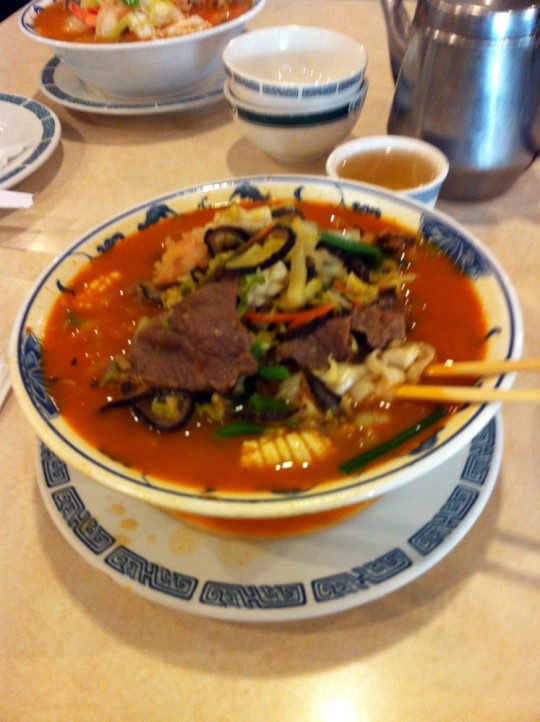 I went with a noodle soup because they're relatively soft and easy to eat. That dish is filled with various seafood (the meat of KINGS) like big ass shrimps, calamari, and stuff I don't even know but is amazing. All the noodles are THICK and HANDMADE IN THE USA from flour, a.k.a. the ONLY kind of noodles you should ever eat.
MY GOD.
I felt like a drug addict mainlining pure-grade heroin (I'm exaggerating a bit).
Unfortunately, there is still a catch. While my gums around the lower extraction areas are now healed enough where I can chew, I have to be aware of the holes. This means I have to use a special syringe and flush out food until they close up more (another week). The nurse that "test drove" the syringe for me shoved it pretty damn far into one of the holes… not a fun feeling.
At least I got my favorite noodle soup for the maiden meal.