With the CBR more or less settled in, it was time to turn my attention to the Husqvarna. Maybe it's just me, but I can't remain content unless I put in some work… At first I was going to keep things low key and just do some cleaning and maintenance, but I'm usually not the best at self-control when it comes to this type of stuff :D The pictures below are a mix from the cell phone and the S95.
I started by taking off the fenders and body panels, and then discarding unwanted weight – such as the rear bag holder rack, passenger pegs, and the mirrors that were as high as the moon.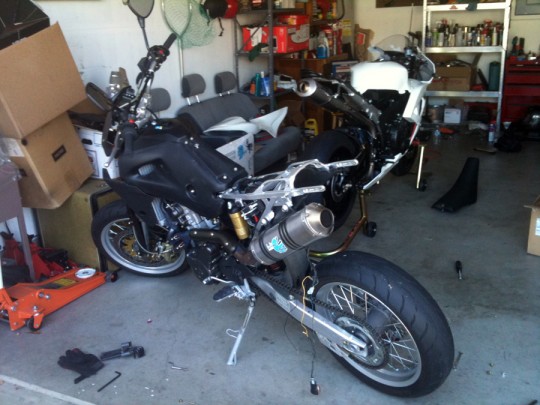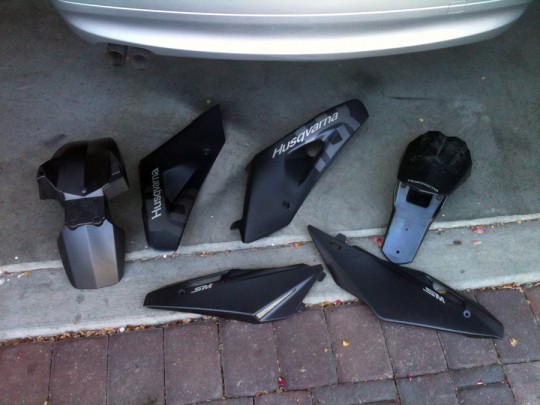 I'll be the first to admit that the SM610 isn't exactly the best looking bike. I'm not a huge fan of what Husqvarna did with the design of the panels, everything is sharp and straight. The front headlight is bulky and looks like an eagle eye or something.
Anyway, after researching and reading up the on the bike, I placed a couple orders… Those couple orders turned into this mountain of packages.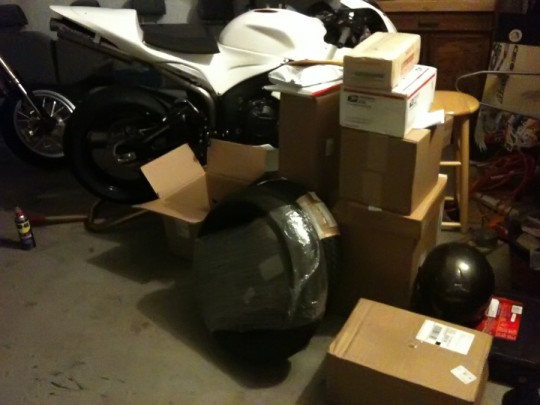 Still waiting on a few more items, but at least I could start. I put the kickstand back on to the CBR and borrowed its rear stand to get the Husky into the air.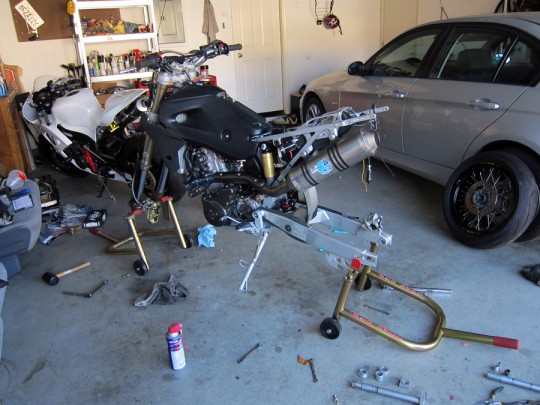 I probably could've lived with the design of the body panels, but my biggest complaint with the bike's aesthetics were the boring silver rims. Husqvarna also decided to go with a comparatively useless 4.25″ rear rim. Those items posed a big enough of a "problem" for me that I opted to rebuild the wheels entirely. I went with a pair of Excel Takasago 17″ supermoto rims in Black, with the rear being a 5″ rim. I wanted to reuse the stock Husky hubs, but there was a catch. The stock drilling for the rims and hubs follows a European index, while the Excels use Japanese index. The situation was resolved by having Buchanan's Spoke & Rim make a custom set of spokes that will mate up the Euro hubs to the Japanese Rims.
Since I was redoing the wheels, I took the opportunity to ditch the junk stock Dunlop's and go with something more proper. The tire combination I chose is relatively unorthodox, with a race tire in the rear and a rain tire in the front. The rear is a 160/60 Pirelli Diablo Supercorsa take-off I got off of eBay, and the front is a new 120/70 Avon Pro Extreme Rain. The Avon may be a rain tire, but it is soft and sticky, and works great in the dry too.
Today I took all my wheel stuff to Zoom Cycles in Santa Clara and had them lace everything up and mount the tires.